The Lesson From Hell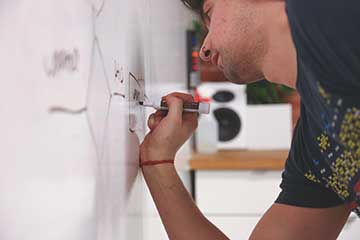 I knew it was going to be a bad day as soon as I got up. My excitement about starting my new teaching job at one of the most prestigious schools in the city had given way to nervous apprehension.
I went over my carefully scripted lesson plans for the umpteenth time. Were they going to hold the students' attention? Did I have a firm enough grasp on the core study material?
These questions and a thousand others whirled around in my head…
Surprisingly, everything had gone well. The initial meeting with the principal showed that he cared about his staff. I finished all my photocopying with time to spare. I was in my classroom 15 minutes early, ready to teach the lesson of my life.
Then things didn't go so well.
The whiteboard eraser didn't work properly… I had written my first lot of notes on the whiteboard and was starting to erase them so that I could write the second batch. Only, the eraser wasn't working properly!
Argh!!! When I pulled the eraser across the whiteboard, it left dark streaks.
The more I tried to rub, the worse the streaks got. I quickly looked at the bottom of the eraser and I could see old black ink caked onto the surface – which was just impossible to get rid of.
My lesson was based on using the whiteboard and now I couldn't use it. The students started getting restless. Some complained. Some laughed. Some didn't care.
My class was a complete disaster
I had lost the class. I mentally put aside my lesson plan and went into survival mode.
My first class on my first day was an unmitigated disaster purely because something as insignificant as a whiteboard eraser didn't work. The rest of the teaching day went by in a blur and I was very, very thankful when it was over.
Straight after class, I did some investigating. And yes, everyone I talked to reported that they had the same problem. The school was trying to cut costs, so they bought the cheapest whiteboard erasers they could find.
I was told to have some moist paper towels on hand for cleaning whiteboards when teaching but I didn't think that was a very practical idea. So, I went online to find a better solution. And I found the JustBoards website.
My new magnetic eraser – one of my most important teaching tools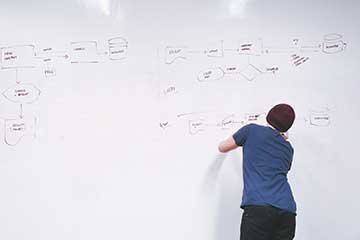 Their magnetic eraser looked like just what I was looking for. In fact, it looked so good, I ended up buying one out of my own pocket to use at school. And boy, was I glad I did.
It didn't leave dark streaks – with one simple movement across the board, I'm able to remove all evidence of my previous writing and have a perfectly clean slate to work with.
One of colleagues noticed the eraser I was taking to class every day (there was no way I was just going to leave it in the classroom) and asked me about it.
After I sang the praises of the eraser, and also of the excellent service JustBoards provided, she got one for herself.
Well after that, word spread like WILDFIRE across the whole school about the whiteboard eraser that ACTUALLY WORKED.
Now, every teacher I know of at the school has a JustBoards magnetic whiteboard eraser.
Q Why do customers choose JustBoards magnetic whiteboard erasers?
A Because they actually work like they're supposed to!
There are three key things that most customers look for when it comes to whiteboard erasers – and these erasers hit the mark for all three.
They're durable
They're high quality
They're good value
When you try to erase a
whiteboard
, they don't leave any ghosting or residue. And there's no need for sprays or cleaners.
Another thing that's really convenient is they're magnetic. Most whiteboard users have had the experience of knocking their eraser off the 'shelf' – but that will quickly become a thing of the past.
On top of everything else, they're made of soft foam with a cushion grip, which makes them both comfortable and ergonomic.
Why choose JustBoards for your whiteboard needs?
JustBoards will help you find the best solutions. We offer Australia wide delivery to your door. Contact us today on 1800 654 917 or at info@justboards.com.au