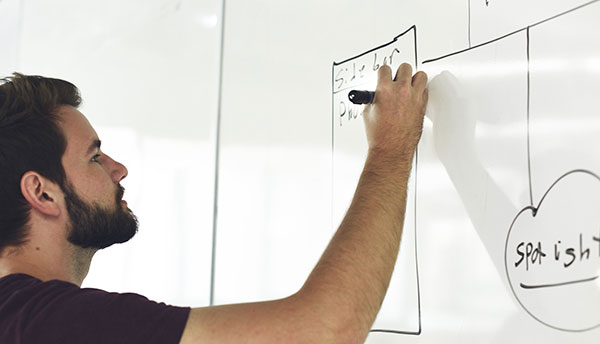 For any organisation, there are times when you need to explain something, discuss an issue, brainstorm about solving a problem, or collaborate on a project. And when such a situation occurs, a whiteboard is an ideal way to communicate information.
You have made a decision to go ahead and buy one. But should you choose a mobile whiteboard or one that you fix to a wall? There are many situations where a mobile whiteboard is definitely the better option.
Small businesses, Micro businesses
You have just quit your previous job and started your own company. While you expect to receive over 100k in profit in the first year, your set up costs mean that you currently have a limited budget for purchasing.
Right there is a reason to only buy one of something if one is enough. And if you choose a mobile whiteboard with lockable castor wheels, you can easily move it to wherever it needs to go.
A budget-priced Chilli mobile is a great choice where funds are limited. A Commercial or Porcelain mobile board will give superior cleanup with longer life but at a higher cost.
Also, you can only afford to rent a small office space at the moment. This makes having wall mounted whiteboards in every room impractical because the working areas would become more cramped than they already are.
You can keep a mobile whiteboard stored in a safe place away from the traffic areas, then wheel it out when you have to.
For example, when you have your weekly meetings with staff , you could write important messages, draw up a calendar for appointments and deadlines, and add inspirational ideas beforehand.
All JustBoards mobile whiteboards; chilli, commercial and porcelain are magnetic and double sided, so you write notes on one side and attach pending items to the other side. This can keep your desk free from clutter while keeping that important paperwork easily accessible.
Sports Clubs
Imagine you've just signed on to be the coach of the local under 16s. You have a look around the clubhouse to see what the facilities are like.
The club has asked you to compile a BRIEF list of what extra resources you need – but you need to remember that they're on a tight budget. Ok, so you need new uniforms, new equipment, and… a new whiteboard.
The clubhouse is tiny – barely enough room to fit everything in so putting up a mounted whiteboard on the wall is out of the question. Still, there will be times when you want to create a game plan to show the players.
Now, it's half time in the grand final. The team is coming in off the field to get ready for your motivational talk. They've been winning all year, but in the first half, everything that could go wrong has gone wrong. The other team has come out with a game plan that you just weren't expecting.
Man, are you happy you got the club to agree to buy your Commercial JustBoards mobile whiteboard. The fact that there was an 8 year warranty and free delivery got the purchasing request over the line.
Now you can show them what to do to win the game in the second half!
Restaurants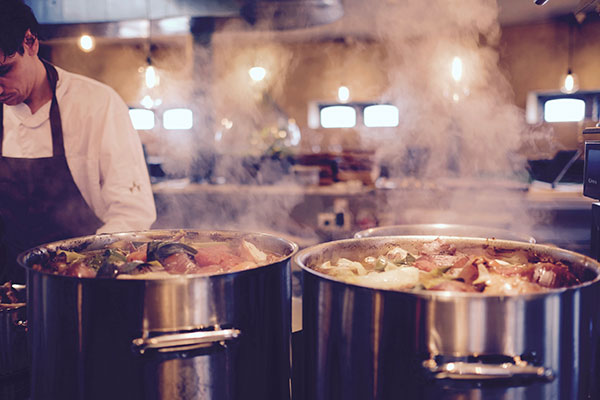 You're a regular customer at one of the more upscale, trendy restaurants in the local area – and it's facing a major problem. A new chef has just been hired and the cooking staff can't stand him.
You know this because the last time you were there, there was a lot of yelling coming from the kitchen. You can see morale is sinking lower and lower, and most importantly, the quality of the food is decreasing rapidly.
After a few weeks, you decide to go back to see if things have changed. The difference between the past and the present is like night and day. You quickly walk over to your friend the maitre d ' and ask him for an explanation.
He has a remarkable story to tell.
The new chef we got a few months back came from one of the leading restaurants in Paris so we were all excited at first. But things went quickly downhill.
The chef was changing his menu items on a daily basis, and on top of that, his cooking instructions were extremely complicated. He just yelled out instructions too rapidly for the staff to follow.
I suggested to management that we get a JustBoards Vitreous Porcelain mobile whiteboard, so the chef could write out instructions instead. Given our reputation for excellence, we wanted the best quality and this is their top of the range board. He loves the easy cleanup associated with the porcelain surface.
We also wanted it to be mobile because we needed to shift it to different parts of the kitchen, depending on what the menu for the day was. Since we got this whiteboard , everything has been going smoothly and everyone's happy. '
Why choose a JustBoards whiteboard?
JustBoards will help you find the best solutions. We offer Australia wide delivery to your door. Contact us today on 1800 654 917 or at info@justboards.com.au
Written by Murray Barnett, at www.thecreativewriter.com.au and tesoladvantage.com