Ironbark Aboriginal Corporation is located in Berrimah, an eastern suburb of Darwin in the Northern Territory. We're a not-for-profit organisation that delivers social, economic, education and employment opportunities to Aboriginal communities.
Summary
Our corporate office was searching for a decent sized glassboard to be placed at our front reception to track the movements of our staff when they're in and out of the workplace.
The Problem
We weren't after any ordinary glassboard – we had a specific need. We required a staff status board – something that showed if staff members were on site or not at any given point in the working day. It needed to be easy to understand at a glance and easy to use.
Our problem was that the kind of glassboard we wanted isn't mass-produced. This meant that we needed to find someone who could design and custom make a glassboard to our specifications: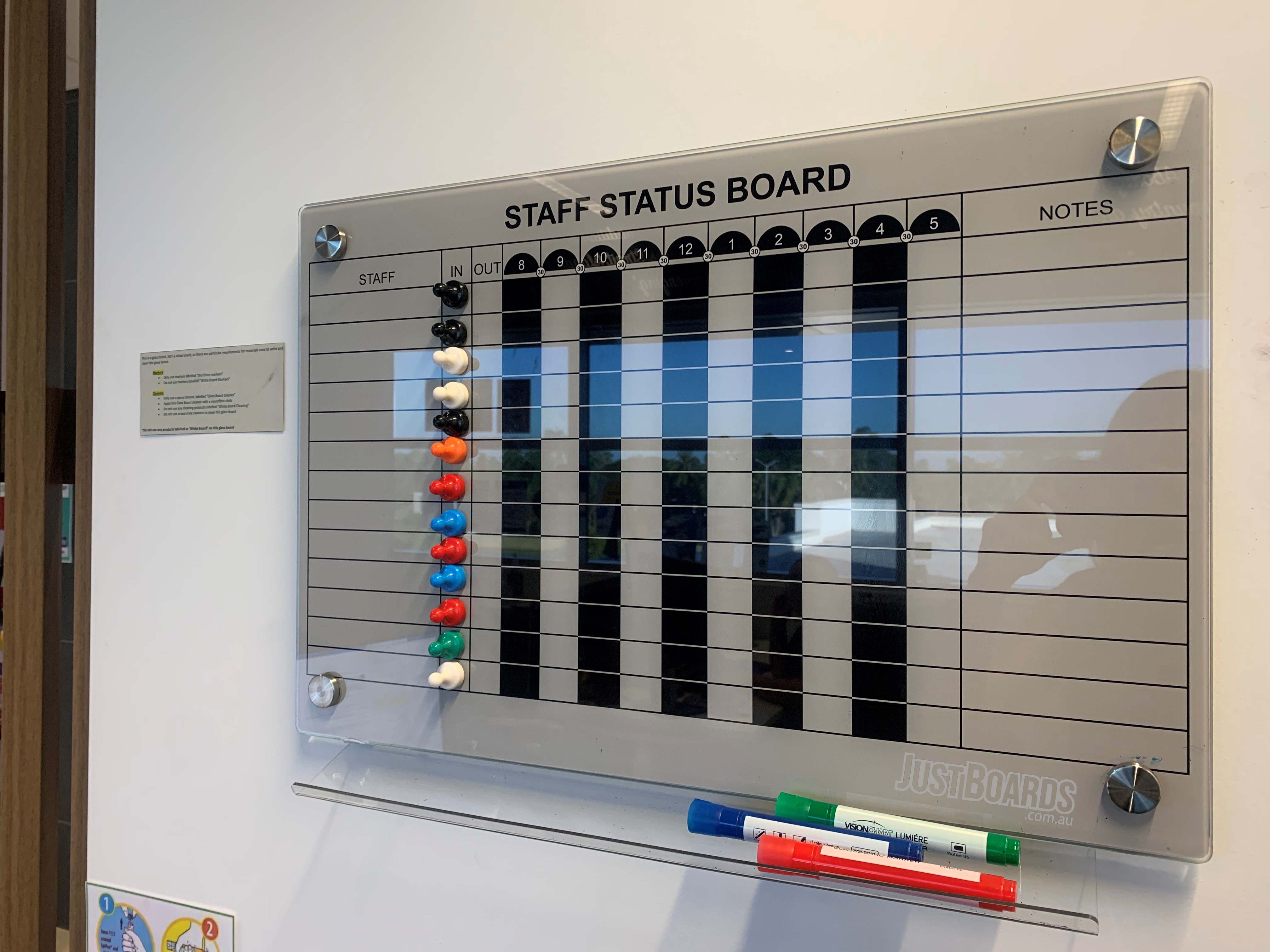 Columns and rows to put our staff members name in
In and out columns
Time columns from 8:00am – 5:00pm
Space to write notes or a comment
The Solution
Luckily, we came across JustBoards. Right from the start of our discussions with them, we felt that they were the right people to deal with. Alana was more than happy to spend time on the phone discussing the different design options and possibilities, ensuring that we could make informed decisions about what to purchase.
We really liked the fact that they sent us a Custom Artwork Confirmation Sheet. It included an Artwork Proof that showed us the printed graphics they proposed to send us so we could make alterations if we wanted to. The design was so good, we didn't need to change a thing.
The size – 600 x 400 mm – was what we asked for. They made it magnetic so we could use different coloured magnets for each member of staff. We thought it was clever to make each time column alternate between black and white, making it really easy to see when a staff member leaves and when they will return.
JustBoards also provided some really good accessories we can use on our glassboard, which was an extra plus.
The Results
We use our staff status glassboard daily, and just recently we brought another one for one of our departments. We're thrilled with our custom designed boards from JustBoards and wouldn't consider buying from anyone else.
Why choose a JustBoards Glassboard?
JustBoards will help you find the best solutions. We offer Australia wide delivery to your door. Contact us today on 1800 654 917 or at info@justboards.com.au.