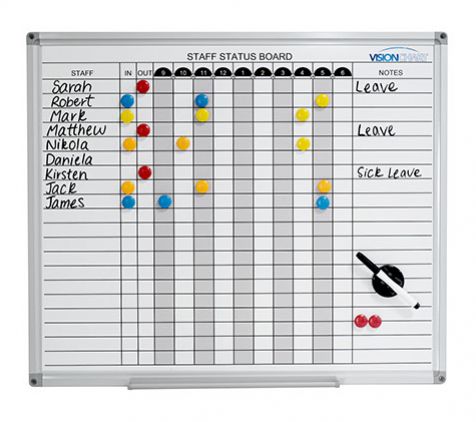 Staff Status Board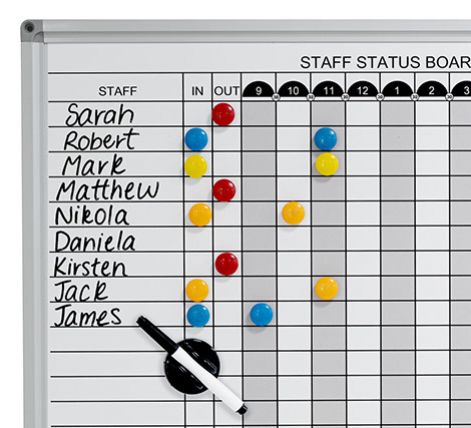 Staff Status Board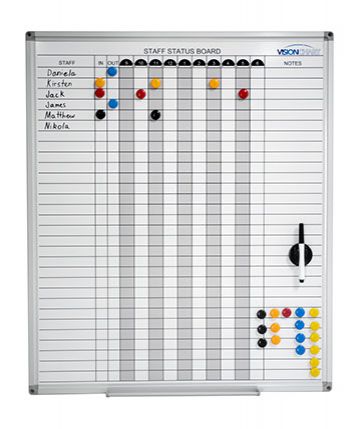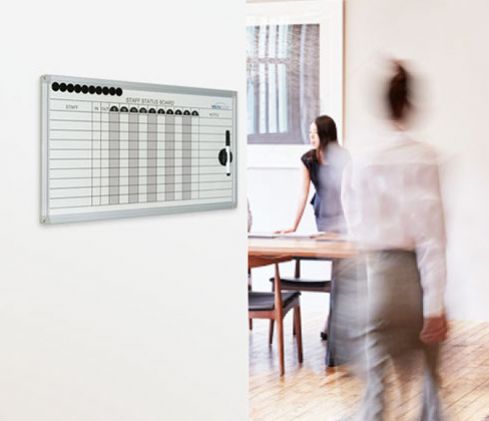 Staff Status Board
Staff IN/OUT Status Boards 📅✏️
Ideal for every busy workplace or staff roster system, our Staff Status Boards are available in 3 different sizes and come supplied with Black and Coloured magnetic buttons and a magnetic pen and holder duo. Three sizes: 10 Name Staff Status Board 317 x 615mm includes 10x Black Magnets, 20 Name Staff Status Board 527 x 615mm includes 20x Coloured Magnets and a 30 Name Staff Status Board 737 x 615mm includes 30x Coloured Magnets.
View prices
CALL US NOW 1800 654 917 .... TO GET THE BEST WHITEBOARD DEALS FOR ALL YOUR NEEDS
Multiple Item Purchase Rebates apply
Select REQUEST INVOICE/QUOTE in the cart if applicable.
Magnetic Whiteboard Surface with Permanent Printing

Easy write, stain free surface

Concealed Wall Fixings

Modern new Silver Aluminium Frame
Satisfied customers in:
Brisbane , Sydney , Melbourne , Canberra , Adelaide , Hobart , Perth , Darwin , Gold Coast , Sunshine Coast , Moreton Region and many surrounding areas, Ipswich , Nambour , Caloundra , Gympie , Maryborough , Hervey Bay , Bundaberg , Noosa , Townsville, Cairns, Newcastle. Even Antarctica, New Guinea, New Zealand, South Africa