The Benefits of Using Whiteboard Room Dividers
When you look at your current office space, there's a very important question to ask: 'Is it meeting my needs?' If your answer is 'No, not really', then perhaps it's time to seriously look at how to make improvements.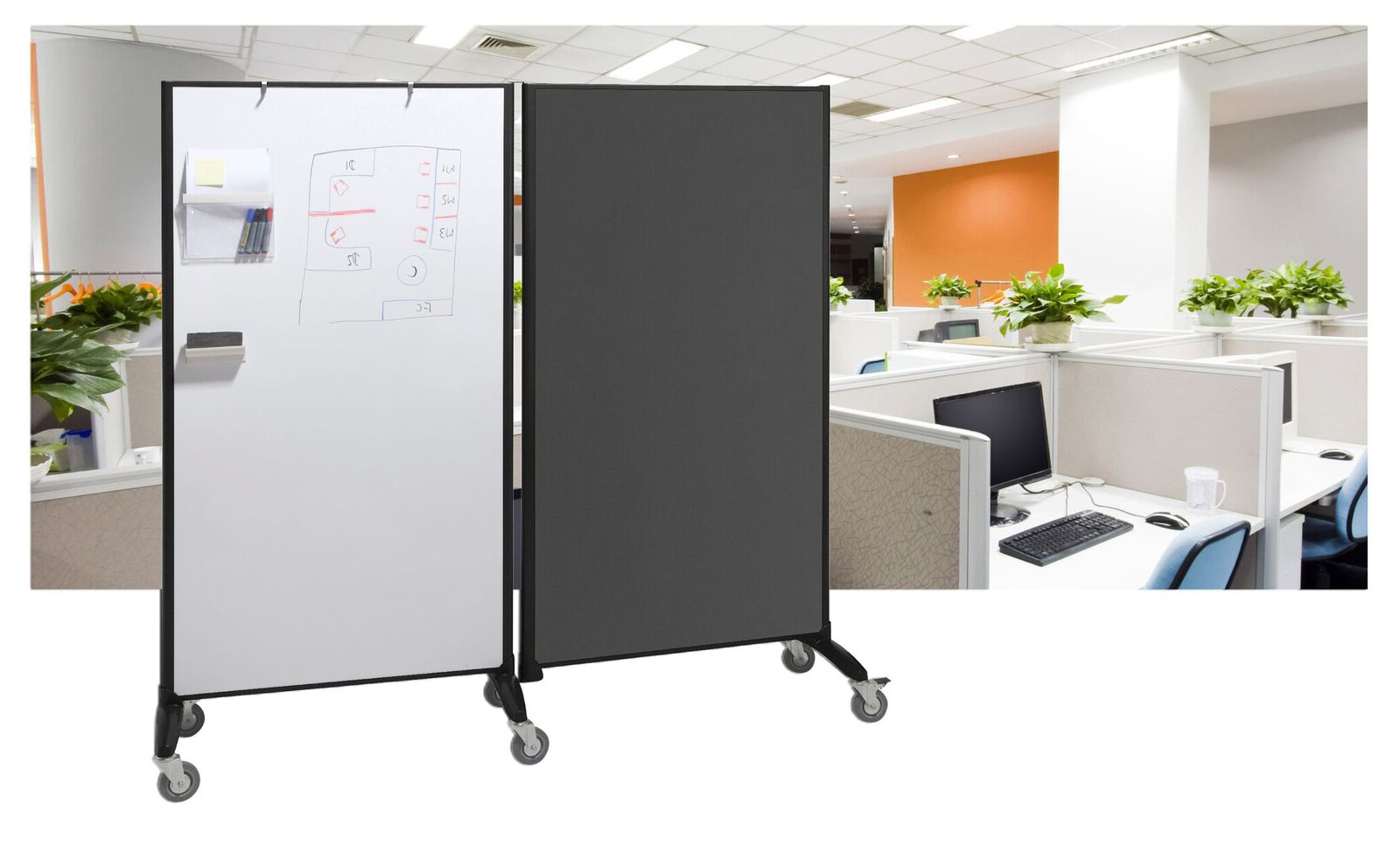 It's commonplace for businesses these days to have an open office plan. And there is obviously some merit to having one. You can break down barriers, both figuratively and literally. Your employees can work as a hub, which can allow for high levels of collaboration, creativity and communication.
BUT
There are disadvantages that can occur as well that can affect efficiency, productivity and morale. Here are some scenarios and situations where dividing your office space makes sense.
1. Privacy
Some employees want to enjoy their own space and get easily annoyed if they are pushed to constantly interact with colleagues. There will be times when there are meetings, training sessions or problem-solving discussions that will only involve some members of staff and you don't want other staff to be distracted.
2. Hiding messy areas
A busy office is a place where people often don't place a high priority on being neat and tidy. For example, storage areas can quickly become unsightly and you don't want clients or guests to see accumulated rubbish, clutter or discarded packaging before you have a chance to get rid of it.
3. Functionality
Office needs sometimes change. And the last thing you want is to have space related inconvenience. Having the agility and flexibility to rearrange an office configuration is important if a department or team gets bigger or smaller, or if employees need to work with each other temporarily on a project.
If you've made a decision that you need to divide your office space, the next question is how? There are a lot of options out there you can go with, including: open shelving, desktop privacy panels, modular partitions, glass walls and moveable screens.
Out of all the available options, using mobile whiteboards has the most advantages.
Obviously, an option is more financially viable if we're talking hundreds of dollars rather than thousands. Why spend a lot of money on shelving, panels, partitions, walls or screens when you can get an option that is just as good like whiteboards for a fraction of the price?
Whiteboards offer something that the others don't – an additional, valuable writing surface for planning and collaboration. This extra writing surface means you can organise a meeting on the spur of the moment when necessary – there's no need to bring laptops or ipads and everyone can interact easily.
All of the options, apart from whiteboards, require some kind of construction work. At best, there will be a lot of distracting noise that will affect concentration. At worst, you'll have work delays and have to extend deadlines due to employees being displaced by workmen.
Another problem with the non-whiteboard options is that they are permanent 'solutions'. That's a problem if you have a dynamic business. The great thing about whiteboards is their versatility – you can rearrange them into different configurations depending on current needs.
You can choose between double sided whiteboards, a whiteboard/pinboard or a glassboard/pinboard. Glassboards are more expensive but you never need to worry about staining or ghosting. The beauty of pinboards is that the fabric is specially designed to absorb noise.
All boards come with large, lockable 90 mm castor wheels. This means that they are easy to position – and then the wheels can be locked for stability so that they don't move once they are in place. Even when you've joined whiteboards together to create a 'pod', unlinking them is effortless.
Many business owners don't own the property in which they run their business. Trying to get permission to drill holes in walls or make other changes that will involve construction work might be a bridge too far. Avoid all of this hassle by choosing whiteboards.
o Aesthetic Sense of Space
Some room dividers are heavy looking, bulky, and intrusive, and can leave you feeling claustrophobic, especially if your employees are used to an open floorplan. Whiteboards, because of their light frame, functionality and versatility, are particularly suitable for open-plan rooms.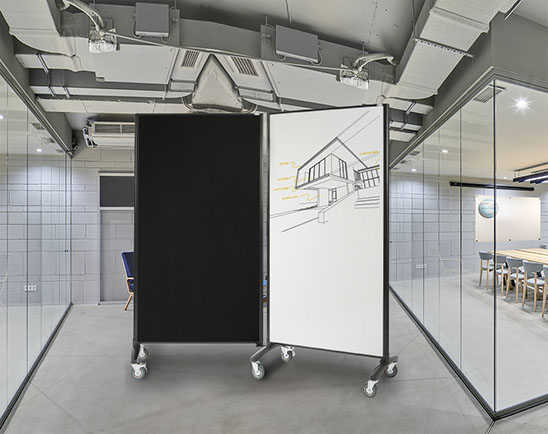 Change is Always Challenging
Navigating any kind of significant change in the workplace is challenging. There will almost always be resistance, even if you have perfectly good reasons.
Making things simple by adopting a minimalist approach using whiteboards means that any changes will be less confronting and more likely to be accepted by everyone.
Whiteboards are an ideal option for dividing a room because they allow you to keep an aesthetic sense of space while still allowing you to adapt that space to suit a variety of different functions.
With whiteboards, you can control the utilisation of space, rather than the space dictating to you.
Why choose a JustBoards whiteboard?
JustBoards will help you find the best solutions. We offer Australia wide delivery to your door. Contact us today on 1800 654 917 or at info@justboards.com.au.