How To Take Care Of Your WhiteBoard
At JustBoards, we don't just think about making a sale.
And we don't believe customer service is merely a friendly voice on the phone and prompt delivery. No, it's much more than that.
We make a point of trying to make the entire customer experience as smooth and stress-free as possible.
We pro-actively anticipate every difficulty you're likely to face, and every question you're likely to ask – and have a solution or answer ready should it be needed.
As a part of customer-first approach, we believe it's important to provide helpful information on a variety of important topics and issues. One of these topics is how to take care of your whiteboard.
We understand you've made a serious investment and you want to make sure that investment is well taken care of. So, here are some helpful maintenance tips that will keep your whiteboard in great condition.
1. Use the correct markers
Let's start with the most important tip first. It's very important to use only high quality dry-erase markers. The confusing thing is that there are two kinds of dry-erase markers out there on the market. So, which kind is better?
For the best possible performance, we recommend solvent-based markers as opposed to water-based ones. Solvent performs better than water because it takes less time to dry and the ink is easier to remove.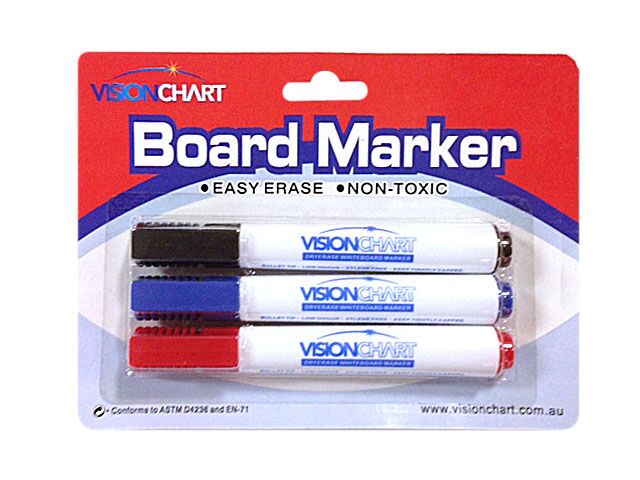 A big problem that whiteboard owners face is staining or ghosting. And one of the key causes is water-based or 'low odour' markers because their ink clings more strongly to the whiteboard's surface.
2. Erase your whiteboard regularly
Make sure that you erase the ink from your whiteboard at least once a day. Another cause of staining or ghosting is leaving ink on a whiteboard for a long period.
You may be surprised by this, but some whiteboard users try using erasers that were not specifically designed for use on a whiteboard. Using a rag or a towel in an emergency may be necessary, but nothing beats regularly using a proper eraser.
If you do need to erase something a short time after writing it, wait approximately 10 seconds before doing so. Acting more quickly will not give the ink the time to dry and will make it a lot more difficult to get rid of.
3. Choosing the right cleaner
It's important to note the distinction between erasing and cleaning. Both need to be done consistently.
Erasers build up pigment over time – so while they are an incredibly useful tool, they do have their limitations. They can only get your whiteboard reasonably free of residue – for a full-on clean, you need a commercial cleaning fluid. We've heard of instances where household items like WD-40, nail polish or dishwashing liquid have been used. Not only do they work inefficiently, they can also damage your board – and can even end up causing damage to you and your health.
For best care and maintenance, your whiteboard should be cleaned 2 or 3 times a week if it's being used on a daily basis.
4. Other Tips
o Removing permanent marker
The quickest and easiest way to remove permanent marker from a whiteboard surface is to write over it with a dry-erase marker. This will dissolve the permanent marker ink, making it possible to erase.
o Removing tape
Some people use their whiteboard to display pictures or charts and stick them on with tape. To remove tape stickiness, put a small amount of non-abrasive cleaner (without bleach) onto a soft micro fibre cloth. Using a horizontal motion, apply gentle pressure and then wipe off any residue with a dry cloth.
o Replacing an eraser
Have you ever walked into a classroom or meeting room and seen an eraser caked with residue? Probably we all have. It's interesting how it's possible to spend a lot on a whiteboard but then not enough on accessories that will prolong its life. When erasers become so caked they become unusable, you then have the problem of people trying makeshift cleaning 'solutions' that are more negative than positive. To avoid this, it's important to replace erasers on a regular basis.
o Use your finger
Our final tip is to use your finger as an important maintenance tool! After cleaning, try running your finger across your whiteboard. If you can feel any resistance, that's good – that means the board is actually clean. On the other hand, if it slides easily across the surface, there's still residue that needs to be removed.
Why choose a JustBoards whiteboard?
Remember when buying first time or if it is time to acquire new boards, Porcelain Whiteboards are easier to clean even when mistakes are made.

JustBoards will help you find the best solutions. We offer Australia wide delivery to your door. Contact us today on 1800 654 917 or at info@justboards.com.au.