Felt letter boards are the star of many an Instagram feed. Here's everything you ever wanted to know about these unique display boards.
Felt letter boards: Everything you've ever wanted to know
Felt letter boards are effective, retro, cute, versatile and professional - they're just a lot of things to a lot of people.
Seen everywhere from cafe menus to Instagram feeds, these vintage-style boards are experiencing an aesthetic revival that doesn't seem to be slowing down any time soon.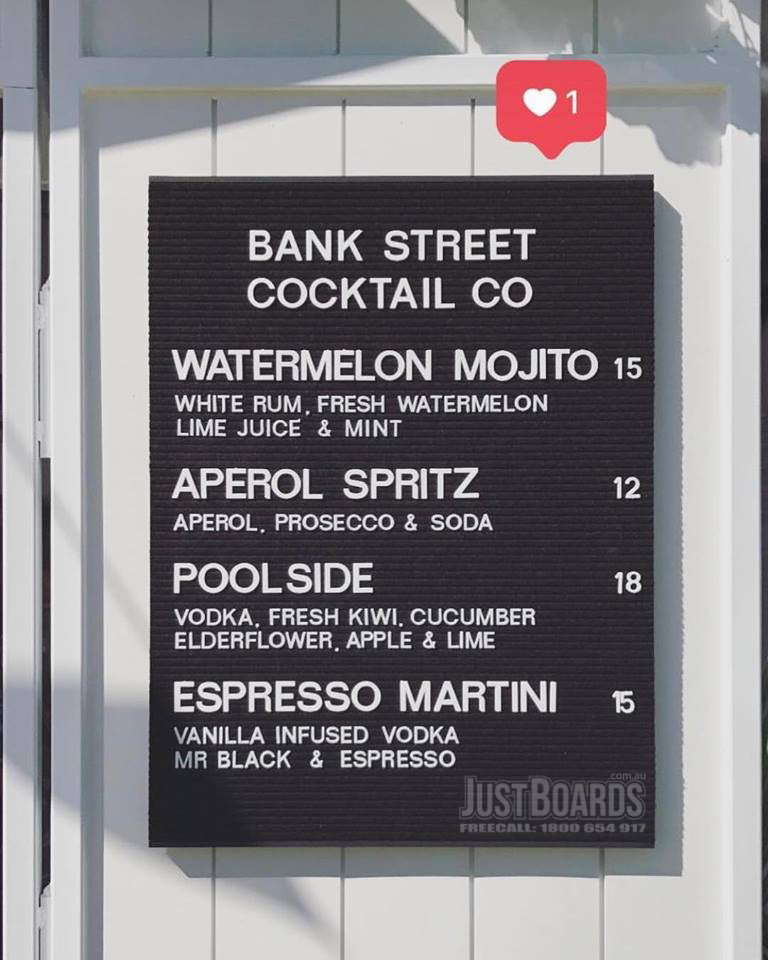 With that in mind, today we wanted to do a deep dive into felt letter boards: what they are, the history behind them and how you can get the most out of your very own specimen.
So, let's get into it felt letter boards!
What is a felt letter board?
A felt letter board is a display board with a felt grooved background that can hold interchangeable letters and numbers. Each individual letter or number has a tab that secures it in place within the board's grooves. Letters and numbers can then be arranged as required, spelling out anything from a famous quote to a list of menu items.
Letter boards are versatile and neat, making them an ideal changeable display item. For info that is always changing - say the name of the group that has booked a conference room or what your bookstore's "Novel of the Week" is - a felt letter board can do it all in style.
Where it all started
Felt letter boards started out as a small utilitarian signs used in places like government buildings, schools, churches and local businesses. They were affordable and adaptable, making them ideal for local establishments. Due to their standardised lettering, they also lent such places an air of authority and organisation.
As a result, for most of the 20th Century, felt letter boards were seen as a cheap yet businesslike communication tool. During these decades, their use was purely pragmatic: they were useful, but not considered a design element.
As with many things vintage, all that changed when Instagram got hold of felt letter boards.
The rise of an Instagram trend
Wynn Galbraith was just a baby when she attained an interesting accomplishment: she made felt letter boards cool again.
At six months old, she was (as far as anyone can tell) the first baby to be Instagrammed in a now-ubiquitous style – a "flat lay" - with a then-unique prop: a felt letter board. It simply spelled out her age in white lettering. And it went viral.
This style of photo is now commonplace on Instagram. You've no doubt seen or even double-tapped at least a few of these shots. What started as an unusual chronicle of a child's development has kickstarted a fad that shows no sign of slowing down. Felt letter boards are now everywhere from trendy cafes to offbeat Pinterest boards.
Galbraith's six-month announcement may have re-debuted the now-household decor piece, but it was those selling felt letter boards who took the trend by the horns. Through manufacturing a quality product, they ensured felt letter boards weren't just a passing fad. Instead, they've become a central tool in every hip Instagrammer's arsenal.
Felt letter board uses
As part of a gallery wall
Gallery walls are IN this season, so why not add your own flair to the trend with a felt letter board? You needn't be a poet to customise your board, simply find a quote that vibes with you and go to town. The simplicity of a black-and-white board allows it to work with any layout and decor style.
Welcome guests to the season in style
If you're looking for unique holiday decor, you can't go past a felt letter board. Whether you choose to display a welcome message or an on-theme quote, these boards are a great way to greet guests as they enter your home.
Chronicle your pregnancy
This Instagram trend just doesn't let up - and for good reason: it's so cute. Simply display the number of weeks on your felt letter board and take a series of photos with it chronicling your pregnancy. It's a great way to keep long-distance relatives up to date on your progress (and makes for a great Instagram pic to boot).
Cafe menu
Want to give your cafe a vintage twist? Why not use a felt letter board to list out your menu items? The versatility of these boards ensures that changing your pricing or updating your menu will be a breeze. Super useful for daily specials.
As a learning tool
Helping your kids to pick out words and sentences on a felt letter board is a great way to get them using their imaginations and to practise their spelling. As an extra reward, place the board somewhere prominent in the house once their message has been completed.
As an Instagram flat lay
Harken back to where the felt letter board resurgence began with the classic Instagram "flat lay". This post style consists of taking a photo from a bird's eye view, with items (or people!) arranged on a flat surface.
You can photograph anything from your morning coffee to your swaddled baby in this style. The limit really is your imagination and letter boards make ideal props. They're a great way to introduce text to an otherwise purely visual style.
How do you keep a felt letter board clean?
Because letter boards are made of felt they do like to collect dust. To clean a board that's collected this type of dirt, simply run a lint roller over the surface. For more stubborn dirt, you can spot-clean your board with a damp cloth.
Another common issue with felt letter boards is pilling – where fibres knit themselves into tiny pill-like bundles on the surface of the felt. Similar to de-pilling a sweater, you can remove pilling from your board with a razor.
How do you keep your letters organised?
Sorting through a big bag of letters is never fun, particularly if your message is a long one. This is where storing your letters separately can come in immensely handy.
You should opt for a compartmentalised plastic container with separate compartments for letters, numbers and punctuation marks. From there it's a simple case of separating your letters into alphabetical piles and storing each one together in an individual compartment.
Organising your letters this way ensures the next time you need to change your board, you're not spending half an hour looking for a lower-case l and only finding an upper-case I.
How do you know what letters to order?
Letter sets or number sets are additional to your felt letter board purchase. In the sets you will have more and less of certain letters, marks and numbers. Just like Scrabble, you will get lots of letter E and fewer of letter Q. Also, the larger the letter/number size, the fewer in the pack. Here's how it works out.

Note well: Letter sets and number sets are sold separately, but each contains various common punctuation marks.
If you require extra quantities of a specific character, JustBoards can help you out. But how will you know what letters you'll need to order?
The best plan is to sit down and decide what use your letter board will have. Are you looking to use it as a menu board? If so, list out your current menu items and see if there are any words or numbers that make extra use of particular characters. If all your prices end in .99, you're going to need a lot of number 9!
Or, perhaps you want to signpost your business? Look at your business name and determine which letters you might require more of.
If in doubt, opt for ordering more letters than you think you need. There's nothing worse than picking out a message on your new felt letter board only to realise you're one letter short. Suddenly, using a lower case l where you need an upper-case I becomes very tempting.
Buy your own felt letter board today
So, now you know everything there is to know about letter boards: what they are, the story behind the Instagram trend and how you can get the most out of your own purchase.
Want to experiment with a felt letter board of your own? JustBoards can help you there! Here's more information on our special page Changeable-Letter-Menu-Boards
Get in touch today! Great service, great prices and Australia-wide delivery to your door. Call us today on 1800 654 917 or send an email to info@justboards.com.au