Whiteboards have come a long way since their invention in the 1950s. Today, you can get whiteboards of every shape, size and colour. But, for this article, what we're really interested in is what they're made of - especially glass. Glass whiteboards simply are the best-of-the-best when it comes to whiteboards. But what makes them so good?
Here's everything you need to know about glass whiteboards: what they are, how they differ from the other kinds and why you should consider investing in one. By the end of the article you will understand how one product can be attractive and durable and good value.
What is a glass whiteboard?
The first thing you have to know is that the different kinds of whiteboards all vary in quality. At the nasty end of the scale, you have boards that stain, scratch or warp. At the other are the glass whiteboard. Glass whiteboards are to offices what Porsches are on the road: aesthetically superior, high performance and built to last.
Made with toughened safety glass, glass boards are easy to clean, stain resistant and incredibly durable. And because they're made of glass, they blend seamlessly into any surrounding decor. They are simply one of the most versatile interior design pieces on the market.
Notice in the images below that glassboards are not only white, but come in various colours.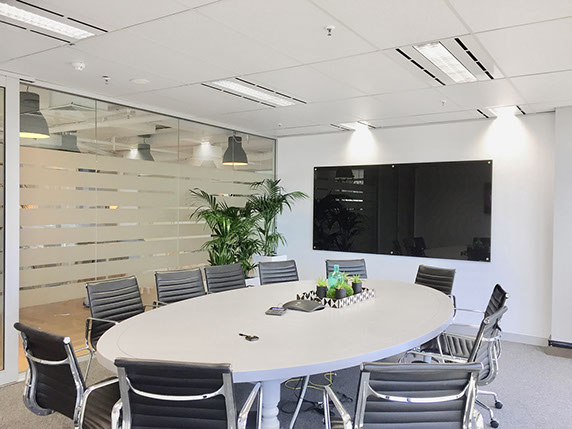 What are your other whiteboard options?
Glass whiteboards are the cream of the crop when it comes to whiteboards, but what about the other contenders? To best understand the pros of choosing a glass board, we must delve into the other kinds available. These include:
Melamine
Painted steel or aluminium
Porcelain enamel-coated steel
Melamine boards
Melamine whiteboards are made of resin-infused paper affixed to a substrate. The substrate is typically particle board or medium-density fibreboard (MDF). Quality varies accordingly. The amount of resin deposited on the base material also dictates how resistant to staining the board will be.
Melamine boards are the cheapest whiteboards available and for good reason: they don't stand up to heavy use. Even those more resistant to staining will eventually wear down as the surface erodes.
Steel or aluminium boards
These whiteboards are backed by a metal sheet with a multi-layer coating of base colour and then a clear performance layer on top that makes up the dry-erase component. Like melamine, the quality of steel whiteboards varies. Good, commercial-grade materials will yield a better product, but any coated surface is susceptible to scratching or denting. On a steel board, a scratch invariably means rust.
Porcelain enamel-coated steel boards
Porcelain whiteboards are typically steel boards with a ceramic coating. This tough exterior is fired directly onto the surface in a kiln. The result is one of the most durable types of whiteboard on the market. Highly scratch-resistant, porcelain whiteboards generally come with a lifetime warranty and are commonly found in heavy-use industrial and school classroom settings. While porcelain whiteboards are typically much easier to clean than cheaper boards, they can still "ghost" - a form of staining that results from a buildup of marker over time.
Common whiteboard issues that don't affect glass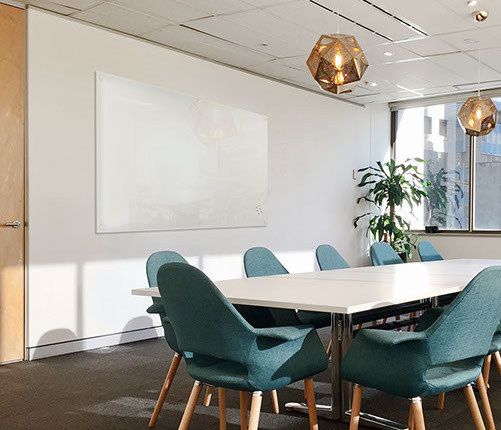 Traditional whiteboards, particularly those that sustain heavy use, can develop a number of issues over time. These include:
Ghosting
Scratching
Wear.
Let's look at each in more detail.
1. Ghosting
We've all been there, even if we haven't known the technical term for it. Imagine a pristine whiteboard that stays pristine for the first week or so of diligent cleaning … but then the ghosts move in. "Ghosting" is what happens when whiteboard marker ink penetrates the surface of your whiteboard, staining it. At best, you end up with a messy-looking board; at worst, your careful note-taking is haunted by the spirits of notes past.
Ghosting is often caused by improper cleaning, but even the best-kept conventional whiteboard will ghost over time. Glass whiteboards, on the other hand, never ghost. Glass is non-porous, meaning the liquid of the ink simply cannot sink in.
2. Scratching
Scratches and dents are par for the course in any well-trafficked area. Whiteboards are no exception. Everything from accidentally banging your watch on the surface to misjudging a furniture reshuffle can leave your whiteboard less than pristine. Permanently.
Even the most well-made painted steel whiteboard is still susceptible to scuffs and scratches over time. Porcelain ceramics are more durable still, but anything harder than glass will still scratch it. One of the most common types of damage we see is when someone tries to scratch stickers or blu-tack off a board with a kitchen knife.
Glass whiteboards, however, are the most scratch and dent resistant boards on the market. Made using tempered safety glass, they're four times tougher than ceramic whiteboards. You'd have to work pretty hard to crack a glass whiteboard. It's why why ours come with a lifetime guarantee.
3. Wear
Whiteboards tend to get a lot of use, particularly in educational, industrial or office settings. That use takes a toll over time, not just in the form of ghosting or staining, but also in general wear. Melamine boards are particularly prone to wear as their surface layer degrades incrementally, revealing the substrate layer beneath.
Glass whiteboards don't have this problem. They just don't 'wear out'. Made from high-density tempered glass, they often come with a lifetime warranty. We know of some glass whiteboards that have been in daily use for over 20 years and still look good as new.
Things to consider when buying a glass whiteboard
As with any major purchase, there are factors you must consider before investing in a glass whiteboard. These include:
How much are you willing to spend?

How much will you use it?

Do you want it to be magnetic?

Do you want it to be coloured?
How much are you willing to spend?
Glass whiteboards are one of the most expensive options when it comes to whiteboards, but with that price tag comes quality and staying power. With proper care, you should never need to replace a glass whiteboard. They're also far easier to clean than other types of board.
How much will you use it?
Because glass whiteboards are top-of-the-range, they don't come cheap. Investing in a glass board is well worth the money, but before you pull out your credit card you'll do well to consider how much use your board will get.
If the board will receive only occasional use, a glass whiteboard might be overkill. Conversely, if your board will get heavy, daily use then a glass whiteboard is an incredibly sound investment. Not only will it last, glass boards are far easier to maintain.
Do you want it to be magnetic?
Yes, glass whiteboards can be magnetic! Magnetic glass whiteboards are a relative newcomer to the whiteboard market but are a boon for every industry, from schools to hospitals to factories. No more losing whiteboard markers to the office clutter! Affix them to magnets and store them directly on the surface of the whiteboard itself.
Magnetic glass whiteboards are made by laminating a strong steel sheet to the back of the tempered glass. Due to the thickness of the glass, however, ordinary magnets don't work well. Luckily, "rare earth" or neodymium magnets, which are the size of a $2 coin but able to hold 4kg, have become inexpensive and common over the past 5 years.
Note well: only steel-backed whiteboards are magnetic, aluminium-backed boards are not.
Any colour you like
Glass is aesthetically pleasing on its own, but for an extra pop of brand colour you can't go past coloured glass whiteboards. Our non-magnetic glass whiteboards come in any Dulux colour, on request. This makes installation not only a boon for those using it, but also matches the look and feel of the area as a whole.
Prefer a classically corporate look? We keep magnetic glass whiteboards in standard black and standard white as on hand stock.
Let's talk aesthetics
One of the highlights (pun intended) of glass whiteboards are their superior aesthetics. Glass lends itself to sophistication and our boards, in particular, excel at presentation. They certainly fit the bill in reception areas, meeting rooms and boardrooms where presentation is a priority.
Our magnetic and non-magnetic glass boards "float" approximately 20mm from their mounted wall on secure, stand-off fittings. Combined with polished edges and rounded corners, the appearance of a glass whiteboard is almost as satisfying as using it.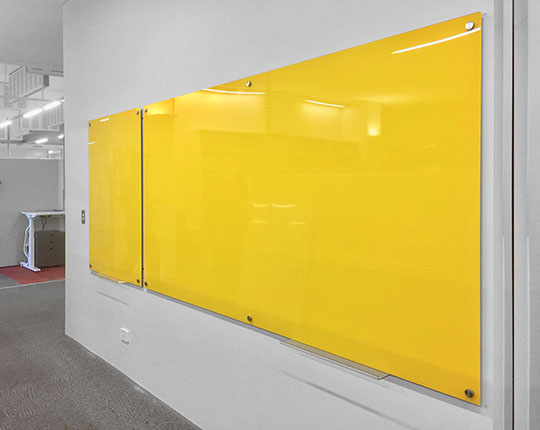 Why looks matter
Workplace amenities play a part in employee satisfaction. It has been found that 37% of job candidates will accept a lower-salary position if the workplace offers an appealing culture and facilities. Further, students learn better in classrooms that are aesthetically stimulating. And that client you showed through your office last week? They definitely formed an opinion on your company based on how your office looks.
Aesthetics play a major part in how we humans judge and interact with the world around us. Why not play to your strengths with a beautifully designed glass whiteboard?
So, you can see why choosing a glass whiteboard from JustBoards just makes sense. We always help you find the best solutions for your unique needs. Great service, great prices and Australia-wide delivery to your door. Call us today on 1800 654 917 or send an email to info@justboards.com.au