About us
The Appleby Family Trust
t/a JustBoards
30 Green Trees Road
PIE CREEK QLD 4570
ABN 95 756 267 881
To contact by email, click tab at top of page
or
info@justboards.com.au
FREECALL 1800 654 917
A family business established in 2006.
We distribute boards manufactured in Sydney NSW
Australia wide distribution is from a number of interstate depots.
Our administration centre in a suburb of Gympie, is just north of the Sunshine Coast in Queensland.
Office Hours: Monday - Friday from 8am to 5pm AEST (often available after hours & on weekends)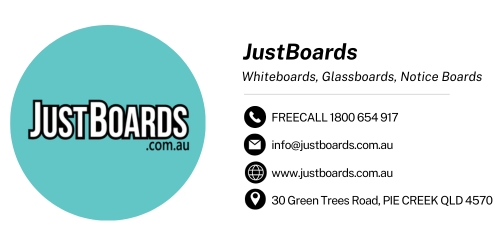 ---
OUR LONG TERM CLIENTS TELL US THAT THEY GIVE US REPEAT BUSINESS BECAUSE THEY FEEL SAFE DEALING WITH US.
WE LIVE UP TO OUR PROMISES.
CALL US NOW 1800 654 917
FOR ALL YOUR NEEDS
---
There are many indicators on our website that show our business is authentic.
Here are a few reasons why we get repeat business:
Prices provided on most items

Full descriptions and photos provided

Warranty prominently displayed on relevant items we sell

Phone numbers and street address prominently displayed


Easy access to us through "request advice facility"

Quick response times

Email address is readily available as are testimonials


Flexible payment options
TESTIMONIALS
"Thank you for your service, it was a pleasure dealing with your company and we are delighted with our Custom Whiteboard"
"We are pleased to let you know that all Glassboards are up on the wall beautifully, thanks once again for making this happen"
"What amazing service! Thanks so much for the fast delivery of my Flip Chart Unit. The quality is much better than expected"
"Thank you for your efficient work, you are a pleasure to deal with"
"Thanks for your responsive service in the manufacture and dispatch of the goods, we were impressed with the standard of packaging."
"We would like to say a huge thank you for our new whiteboard. It's just been installed and it's so much easier to use than the previous one! Thank you for listening to our concerns, for following through to try to get the problem fixed and for providing a new board when this proved impossible. Our highest commendation for your wonderful service. With grateful thanks"
"I would like to sincerely thank you for your customer service. In a customer service business industry you have excelled. You replied to all of my concerns and followed up each email with a telephone call providing further information"
"Just a quick email to thank you for your excellent service. My purchase was handled promptly. The delivery driver rang to confirm time of delivery and was very professional. It is so rare these days to find people who are serious about their business so I thank you, the process has been enjoyable. Keep up the good work"
"I opened it up this morning (was all good) and will mount it this morning. The board looks great already, and that's before I put it on the wall!! Thank you so much for the assistance with the purchase, quick turnaround time and following up with delivery details, it was much appreciated. Till next time"