My name is David and I'm the principal of a private high school that recently opened in Queensland. When the school was in its construction phase, I was the head of the planning and design team, responsible amongst other things for purchasing resources and equipment.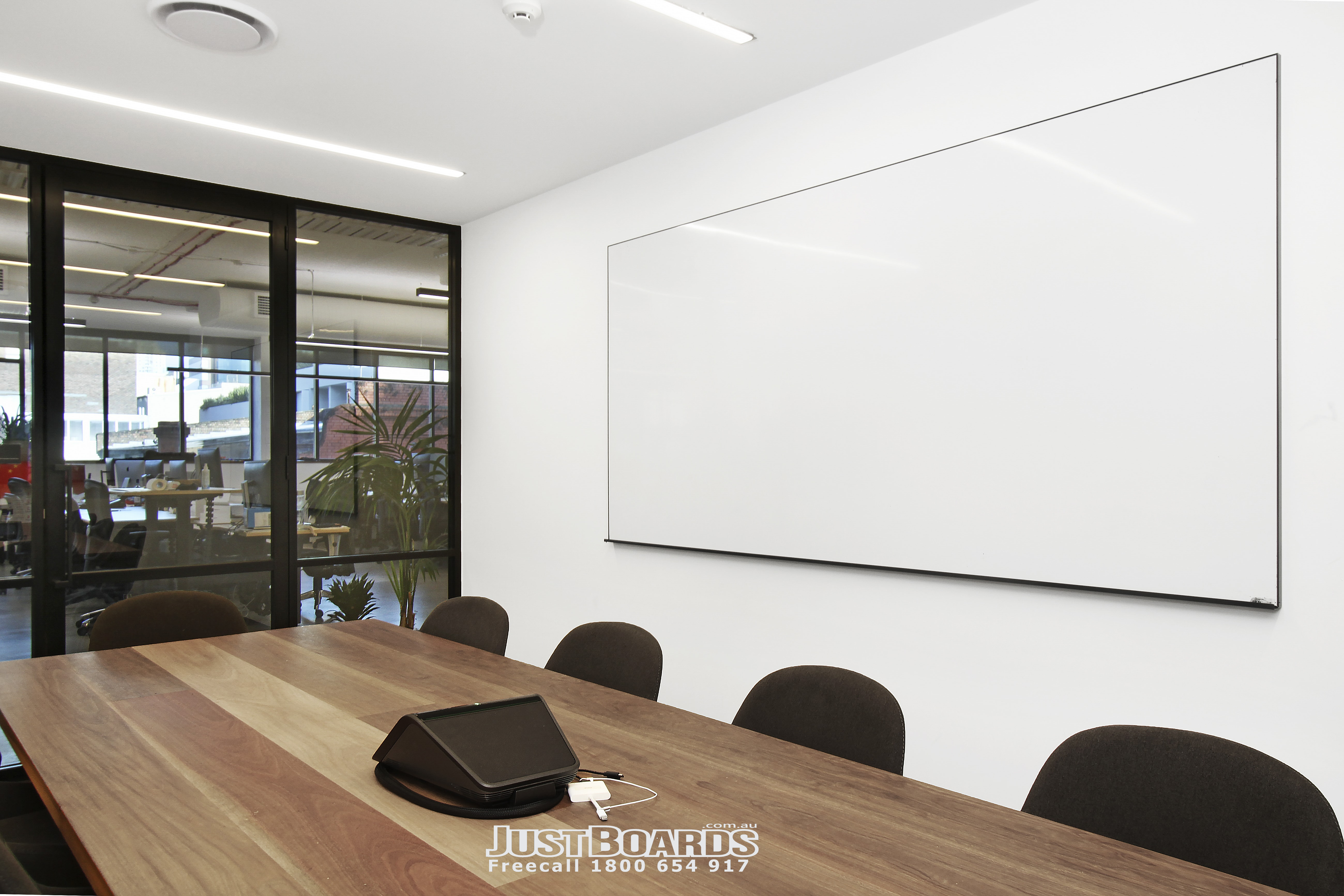 JustBoards has the Best Range of High-Quality Whiteboards
When it came to choosing whiteboards, our team's primary concerns were quality and product range. Our buying decision was mainly influenced by the fact we wanted to go with one high-quality supplier – one who could accommodate all our needs for the different kinds of whiteboards we required.
When we first started ringing around for information and quotes, we found JustBoards had the best high-quality product range – and was by far the most helpful when it came to supporting us in making informed decisions on purchases.
Porcelain vs Acrylic Whiteboards
Our first and biggest task was to organise large, wall-fitted whiteboards for every classroom. This was by far the largest purchase in terms of volume, so we had to get it right. We were going to go with acrylic boards, but we found this wasn't the best option for us.
Alana at JustBoards explained that acrylic boards are only suitable for low to moderate usage and only have an 8-year surface warranty.
We knew right away that was not going to work. Teachers use their whiteboards multiple times a day, so we needed a much more durable option. When we asked Alana about this, she recommended their porcelain magnetic boards.
Not only are they recommended for heavy duty use with a 25-year surface warranty, you can also put teaching aids like pictures, charts or documents on them with magnets. And they can be cleaned more easily, with no or very little ghosting.
All of us on the team thought porcelain whiteboards represented a much better long- term investment and they are what we decided to go with.
Projection Whiteboards
Our school curriculums have a heavy emphasis on the use of interactive projectors as an important teaching aid. For example, our English department teachers project student essays for comment, highlighting areas that are at a high standard, as well as those elements that could be improved.
Our team decided right away to not buy special projector retractable screens – it made more sense to use whiteboards both for writing on and as screens. But one of the teachers on the team said we needed to be careful because porcelain whiteboards can have a lot of glare when you use them as a projection screen.
Alana at JustBoards told us they have porcelain whiteboards that are specially made to also be used as projection screens. They are manufactured with a matt grey like surface that has 60% less glare than regular porcelain whiteboards.
As soon as we heard about this option, we decided to designate one classroom per department as a media centre, with an interactive projector and a projection whiteboard installed.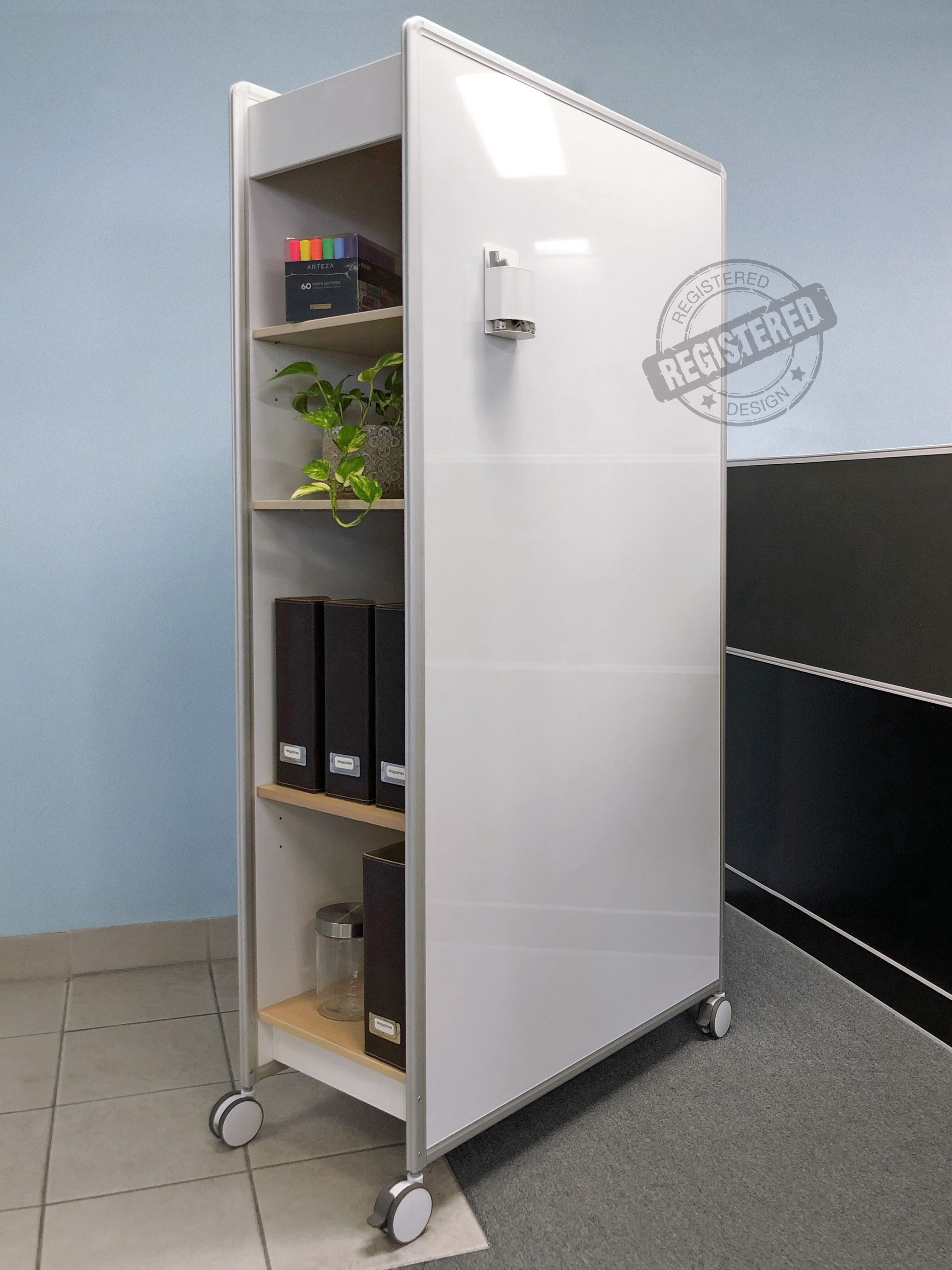 Mobile Whiteboards
Every department put in a request for mobile whiteboards that had to fit the following requirements:
Double-sided
Magnetic
360 degree pivoting
Built in pen tray
Full size wheels
We on the planning and design team understood the argument for mobile whiteboards. There are times when one centrally fixed whiteboard doesn't work in a classroom. And the requirements seemed reasonable.
We weren't surprised when we found JustBoards could provide us with whiteboards that met these particular specifications, given the fact that they had easily met all our concerns so far.
Music Whiteboards
We had a special request from our soon to be Head of Music. The music department was going to have four sound proofed practice rooms and a choir/orchestra room and they wanted to know if they could get whiteboards with staves (the lines you write music on) on them for these rooms.
For instrument and singing practice, teachers routinely have to write musical notes for students to refer to. Having to constantly draw, erase and redraw staves to write musical notes on is a problem – it's too hard to keep them neat and straight.
Fortunately, JustBoards had a solution – they let us choose between a printed overlay of music staves or a surface with the staves permanently baked on.
Year and Term Whiteboard Planners
The administration section needed a year whiteboard planner, while all of the teaching staffrooms needed to have term whiteboard planners installed.
The administration year whiteboard planner was to include all the important school dates throughout the year – things like examinations, school holidays and excursions.
The staffroom term board planners were curriculum focused – for teachers to keep track of key weekly topics aligned with course objectives and when assignments are due.
All the boards JustBoards supplied us with came with permanent graphics and a magnetic surface – just what we were after.
You Can't Go Past JustBoards for Whiteboards
Our experience dealing with JustBoards was the best out of all the equipment suppliers we dealt with.
So, if you asked me, 'Where can I get the best whiteboards in Australia?', the answer's simple.
JustBoards is the answer.
Why choose a JustBoards whiteboard?
JustBoards will help you find the best solutions. We offer Australia wide delivery to your door. Contact us today on 1800 654 917 or at info@justboards.com.au.