If you asked your friends and colleagues about how they use a whiteboard monthly planner, most of them would probably talk about using it in an office or school environment.
While there's nothing wrong with using a monthly planner in these ways, I'd like to share with you a recent trend – using one as a 'personal diary' at home. And not just for birthdays, anniversaries, holidays and appointments.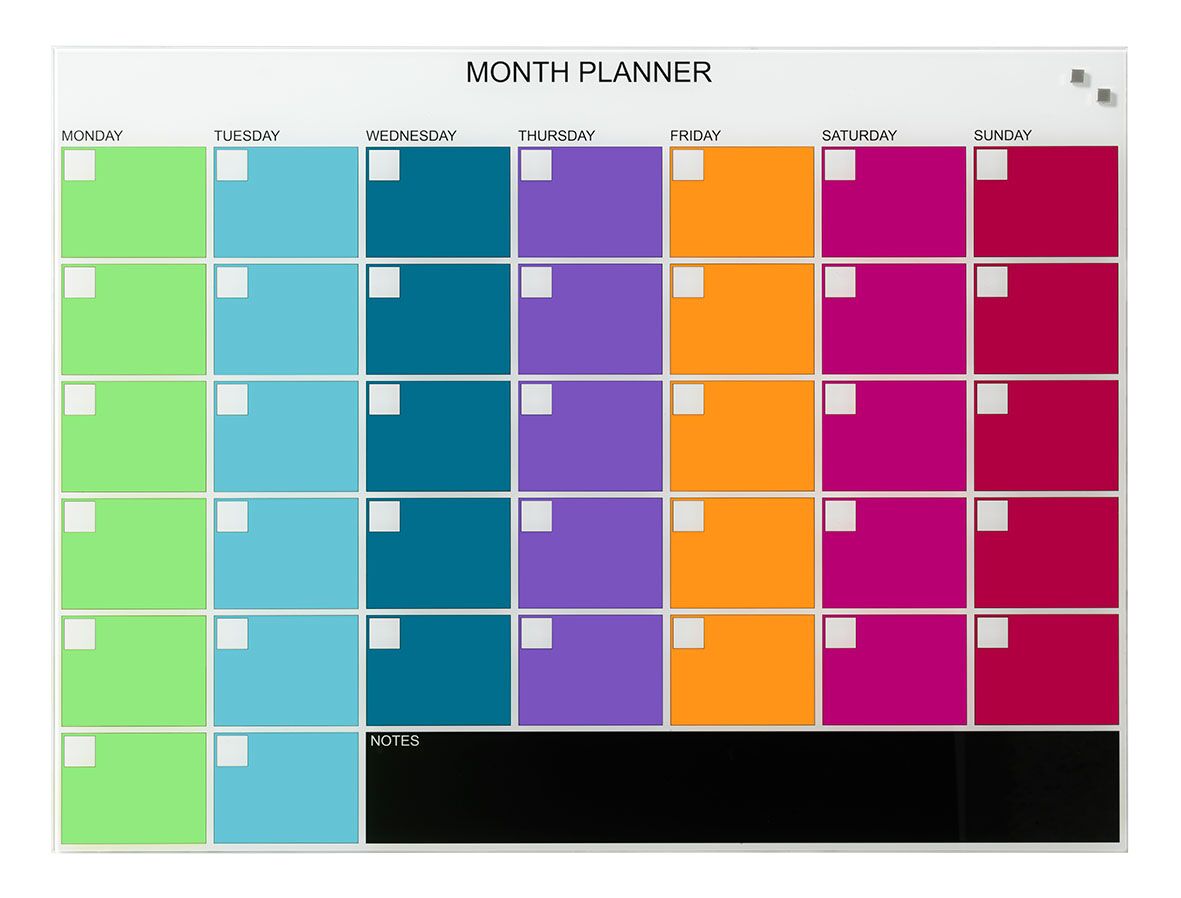 There are a lot of fun, creative and useful ways to use a whiteboard monthly planner. Some ideas can be written on your board. Others can be on small pieces of paper or photos that you post on your board with magnets. Here are 20 different ideas that you can adopt and track over a month.
1. Random acts of kindness
Give a compliment, giving your time to someone or even paying for someone's coffee – it will make you feel good and the recipient feel good.
2. Your fitness level
How many kilometres you run or ride your bike, or how much weight you have lost.
3. Photo of the day
It might be a selfie or of your kids or your pets, or something interesting you have seen recently like a sunset or waterfall.
4. Meals
What you're going to have for dinner every day or what you ate and how many calories it was.
5. Video of the day
It could be a video you post or one that particularly tickles your fancy on YouTube, TikTok or Instagram.
6. Gratitude
You could focus on things that you're grateful for. This really helps to keep things in perspective and life in balance when you're feeling sorry for yourself and you want a more 'glass half full' perspective.
7. To Do List
Try making a top three to do list for a day – a priority list of things that have to get done and that you can refer back to.
8. Spirituality
This is about how you see yourself in relation to your family, friends and the world – and what's important to you. You could write a Bible verse, or write about meditation, yoga, or a beautiful place in nature.
9. Social Media
Look at the responses you get to posts – track followers or how many likes you're getting.
10. Win of the Day
Something that you accomplish on a certain day – something you're proud of. It could be something you've been putting off doing that you finally got around to doing. Recording wins of the day will motivate you to stop procrastinating and do more.
11. Quote of the day
This has to be something that 'speaks to you'. One of my personal favourite quotes is: "All the art of living lies in a fine mingling of letting go and holding on."
12. Tidy Up
People get busy and sometimes things inside and outside the house get untidy. You might want to declutter in general, wash the windows or trim back the trees and bushes in the garden.
13. Positive Affirmations
This is a great way to start your day. You can put yourself in a positive mindset and start off on the right foot.
14. Doodle of the Day
Sometimes it's good to be a bit silly – life can get way too serious at times. Even if you're the worst artist in the world, anyone can doodle.
15. Self Care
It could be anything from taking a bubble bath to rewatching your favourite movie. A good one that many people choose is turn off your mobile phone for a certain period.
16. Sleep
How many hours of sleep a night are you getting? Is it enough? Most experts say it should be at least 7 hours.
17. Headline of the day
What current events are important to you? In your community? In your country? In the world?
18. Memory
Write something that happened on a certain day that was important to you. Something that's fun to look back on. You found a new kind of wine that you love or one of your kids said something nice to you.
19. Budgeting
Write down what you spent on a significant spending day. This can help you keep your overall spending on track.
20. Today's goal
This wouldn't be a major goal – just a little goal achievable in one day. Like:
Walk 10,000 steps
Meditate
Smile at 5 people
Try something completely new
Call an old friend
Explore a park
Cook a healthy meal
Volunteer for charity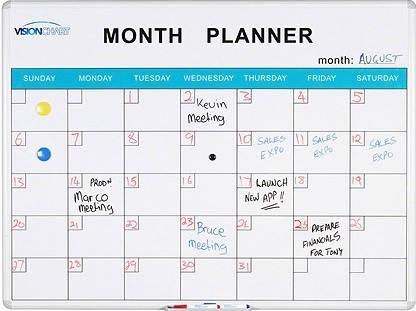 Many of these ideas you wouldn't do every day. And you can focus on some ideas one month and on other ideas the next month.
Whichever ideas you choose, you are using your whiteboard monthly planner in a way that will help you feel more enthusiastic and confident, both about yourself and the world you live in.
Why choose a JustBoards Whiteboard Monthly Planner?
JustBoards will help you find the best solutions. We offer Australia wide delivery to your door. Contact us today on 1800 654 917 or at info@justboards.com.au.