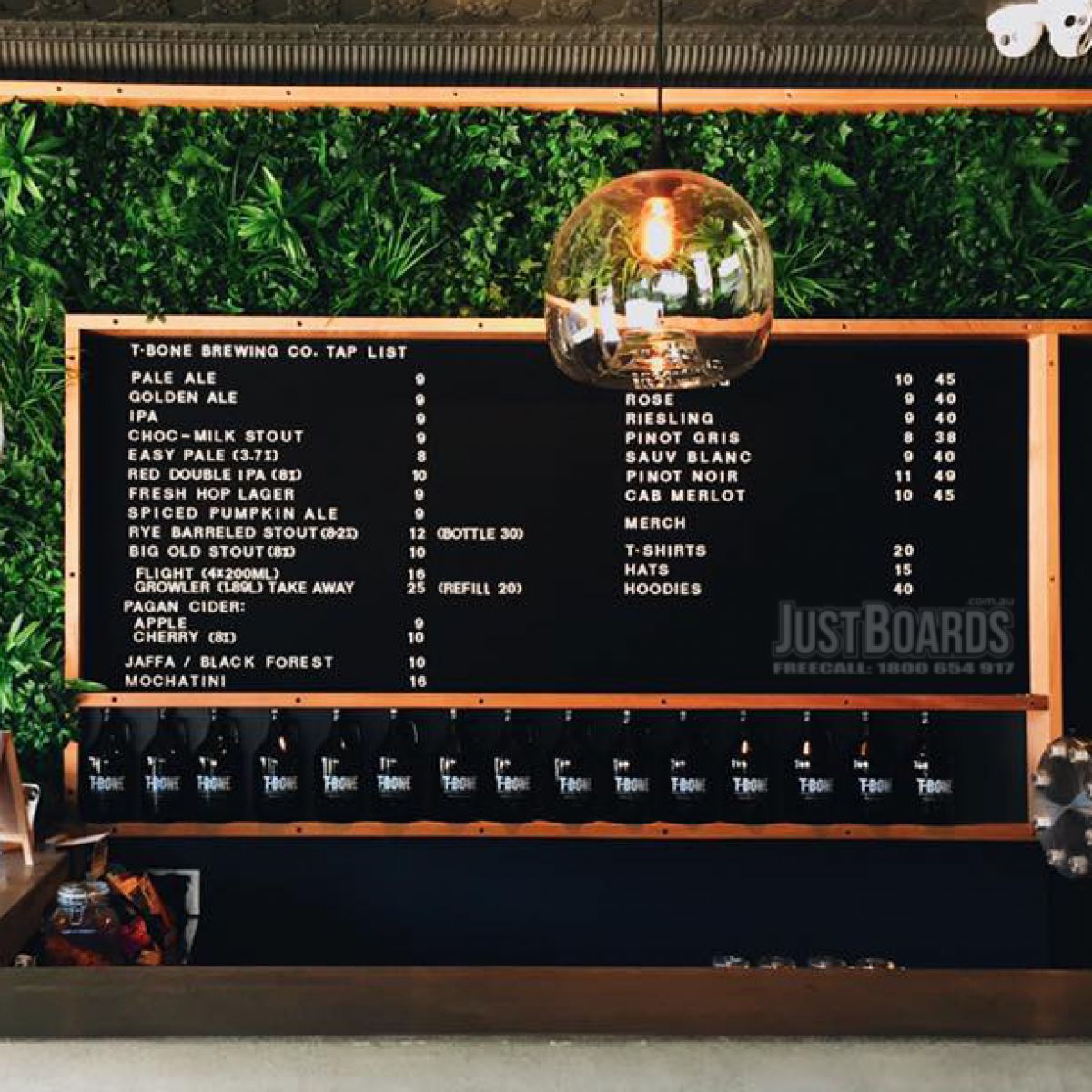 Best LetterBoards - Maryborough Free Delivery
JustBoards LetterBoards ain't just letter boards
Interchangeable Menus are the way of the future. They are Modern yet Retro and provide you with complete control over what you display. If your information or menu changes regularly, our interchangeable Felt Groove Letter Boards are the ideal board for you. Your menus are easy to read fon large changeable menu letter boards. Popular in Restaurants, Cafes, Homes, Hotel Lobbys, Bars and much more. We can manufacture them in your choice of Black or Coloured Felt overlay with 6.35mm (1/4") groove spacing that allow our plastic Letter and Number Sets to simply slide into place. All Felt Groove Letter Boards are Made to Order with a Lead Time of 15-20 Working Days plus Delivery. Standard sizes are listed on our website or custom sizes can be manufactured on request (max size: 2400 x 1200).
Black or Coloured Felt Boards available
Unframed or Framed Versions

Unframed Boards come with a Split Batten Fixing
Framed Boards come standard in Silver or can be Powder Coated at an additional cost

Approximate thickness of the board - 16mm
---
STOCKED SIZES:
JustBoards exclusively hold stocks of 600 x 450 or 1200 x 600 Black Felt, Unframed Boards
Available in Landscape or Portrait Orientation
Please contact us to check availability
---
Letter and Number Sets (NOT INCLUDED with Felt Groove Letter Board Orders)
Our Interchangeable plastic Letters and Numbers feature tabs to fit grooves in our Letter Boards with 1/4" spacing. Letter & Number Sets are two seperate packs and are sold separately. Packs consist of either all Numbers OR upper case Letters + punctuation marks
Available in Gold, Silver or White. Black (on request)
3 Standard sizes available: 15mm, 19mm & 28mm in Sets
---
Let us help you. Not sure how many Letter or Number Sets you need?
Contact our team and they can help you calculate the exact quantity you require.