Confidential Cabinet - Jarrah Laminate Exterior- Commercial WhiteBoard inside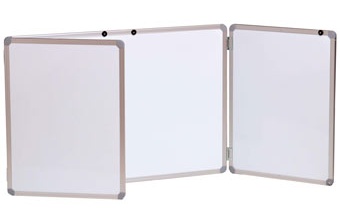 Confidential Cabinet - Commercial Whiteboard Interior and Exterior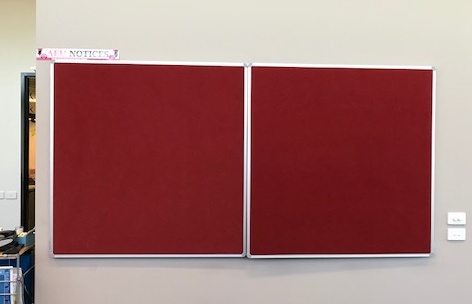 Executive Confidential Cabinet *Velour Doors*
Lockable Confidential WhiteBoard Cabinets
Designed to keep sensitive material behind lockable doors for increased confidentiality.This foldaway board system features a Commercial Whiteboard surface and your choice of Commercial Whiteboard, Laminate (Jarrah, Teak, Beige or Grey) and Velour Pinboard Doors. Each Board includes a velcro lock and a bonus 300mm Pen Tray. Additional secure Lock can be added as an optional extra (recommended 2 per cabinet). These locks are designed to prevent tampering and to display evidence of any tampering efforts. Be aware they not suitable for valuable items in situations where determined intruders may act undisturbed. Because of the multiple combinations possible, ALL boards are made to order. Lead Time for Manufacture on Custom Boards is approximately 15 Working Days plus Delivery. As well as supply Australia wide, installation can be arranged in many capital City Metro areas, (Excl Perth, Darwin, Hobart & Adelaide). Please note: Sizes listed below are when the Cabinet is closed.
CALL US NOW 1800 654 917 .... TO GET THE BEST WHITEBOARD DEALS FOR ALL YOUR NEEDS
Multiple Item Purchase Rebates apply
Select REQUEST INVOICE/QUOTE in the cart if applicable.
Important: Colours are INDICATIVE ONLY. Colours may vary from batch to batch.


Computer Screens & Lighting may influence colour perception
---